I have a problem with life simulators. Not in a bad way, perse, but more in a way where I play Harvest Moon almost as frequently as I do Skyrim. Now, when I say life simulator, what comes to most people's minds is something like Sims, though most of what I play are actually games where you do not play god, but rather games where you are an individual playing out a life on some sort of alternate plane. That is exactly what I have been playing for this past week, a game where you live a life among animals, as your neighbors, a game known as Animal Crossing: New Leaf.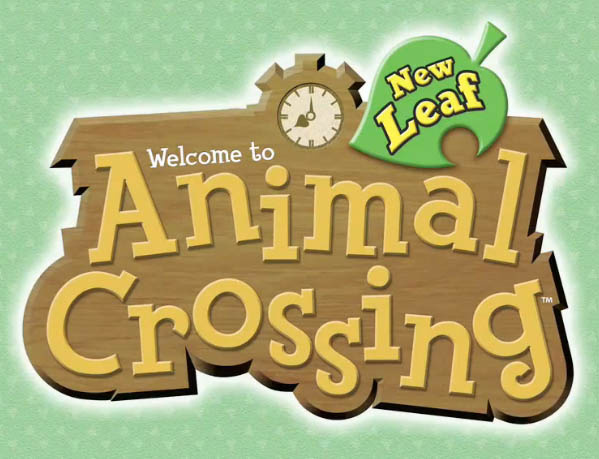 Logo from the new game, (c) Nintendo
At first glance, this new installment in the Animal Crossing series does not appear to be all that different from the previous games. The only immediate difference is your role: instead of just riding to a new town as a new member, you arrive in your chosen town as that town's new Mayor. On top of that, the other immediate difference is your ability to better customize your town. At the start of a game, you get tho choose your new town's map, rather than have it chosen for you, and once you get into your mayoral duties, you soon find that you can also better customize your town with Public Work Ordinances. Also, your house is easier customized, and you have more options for customizing your character, with new clothing options such as shoes and skirts. Aside from these new, more free customization options, there are also a pair of two more new tools. While one basically is just another way to acquire more sea creatures for your museum's collection, one, known as the megaphone, is a smart new use of the microphone, where you can 'call' the name of residences (or any animal, for that matter) to get their attention, and bring them to your side. This can be useful if you wish to know if there are also any special residences, like Gulliver or Savannah, currently in your town.
Aside from that, one of my favorite changes to this game was the addition of a 'Main Street' to your town. Now, rather than have several buildings, such as the Albel Sisters and Nookling Junction, scattered throughout your town, several buildings have been moved off the map, to a separate location, known as that 'Main Street'. Though your town hall still remains in your town, off of the main street (along with the addition of a new retail store which allows the eventual creation of custom furniture, and a 'town square') your actual town-space is now a bit more roomy, and, dare I say, a little less cluttered, also leaving a bit more room for residences to live.
While, all-in-all, there are not too many changed made from last game to this one, if you are a fan of Animal Crossing, I'd say that this game is definitely worth your money. If you are new to Animal Crossing, and looking for a new game, I'd recommend this to you, as well. I find many people who are new to the series can often be lost in the game for hours, and return to it for days of entertainment on end. But, what else would we ever expect, from a company such as Nintendo, masters of hand-held gaming.